It's raking season again here at Shady Oaks. Although we removed some dead and diseased trees this spring, it hasn't made much difference to the size of our leaf pile. And our gutters are a stuffed with leaves as ever.
October finally brought the rain. Many of the perennial plants were thankful to put on a bit of extra growth before going dormant, but we weren't lucky enough to get a second bloom again like last year. In fact some of the plants that should have bloomed in fall like the asters, never did. October has mostly been a chance for the garden to recover from the summer drought.
What I'm Up To This Month
Planting cover crops in the vegetable bed
Covering other vegetable beds for the winter
Trimming back lilies and hostas, and most other herbaceous perennials
Raking and mowing up leaves
This Month's Featured Plant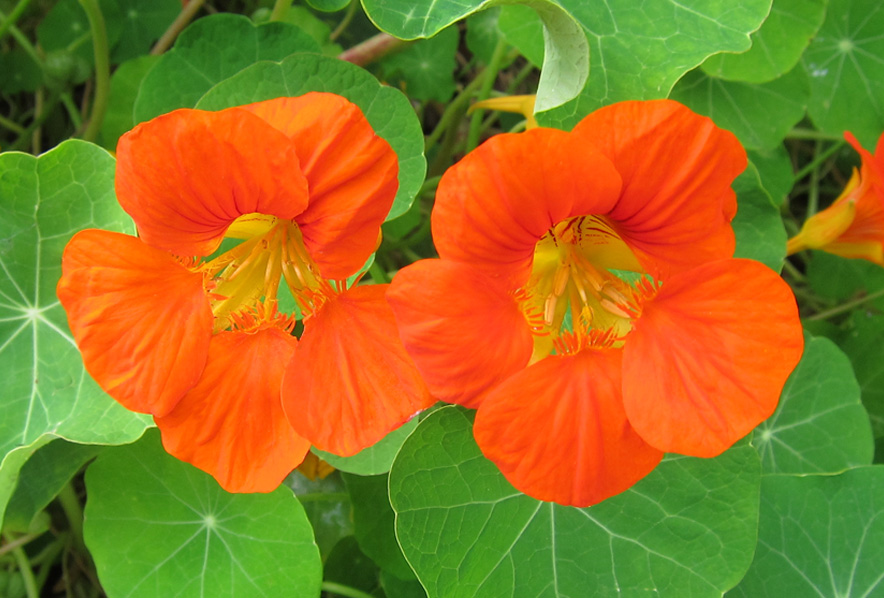 I planted nasturtiums in the vegetable bed as a companion plant. I was hoping to draw away pests like aphids and squash bugs. I started them as seeds and they were slow going, probably due to the heat and limited water in the summer. However they have been amazing this fall, even after the first frosts. Although they never really fulfilled the goals for why I planted them I have appreciated their cheery blooms this fall, especially as much of the vegetable garden has been put to rest for the winter.
I would encourage you to think about adding nasturtiums to your garden next year too. They come in a variety of forms including both compact and climbers. I went with a traditional orange variety this year, but they can come in reds, pinks and yellows as well. I really like the "Tip Top Apricot" cultivar.
Nasturtiums have been popular in window boxes and pots due to their cascading habit. But I like them best in the vegetable garden for a pop of color. They are attractive to pollinators as well as beneficial insects like hoverflies. As a nice bonus to all these features, nasturtiums flowers are edible. They add color and a nice peppery flavor to salads. I understand the seeds are also edible, but haven't tried them myself.
Although usually considered an annual, it has been known to survive winters in Zones 9+. So here in 8b land, I thought I'd let it be over the winter. Fingers crossed. But whether this nasturtium survives or not, I plan on continuing the tradition of adding this versatile plant to my garden next year.